We've built ORO features from the ground up to be the most powerful, yet easy to use Point of Sale for stores of all sizes.
Manage your Delivery and phone order business with Ease with Cust plugin. 
Manage safe contactless delivery and Pickup with guest notes.
Fast delivery taking with google map based address validation.
Reorder foods that guest ordered before.
Filter orders by time.
Automatically bump items to the kitchen before delivery.
Highlight late deliveries by Red and Yellow.
Save delivery history and reorder.
Integrate online order from Menugreat.com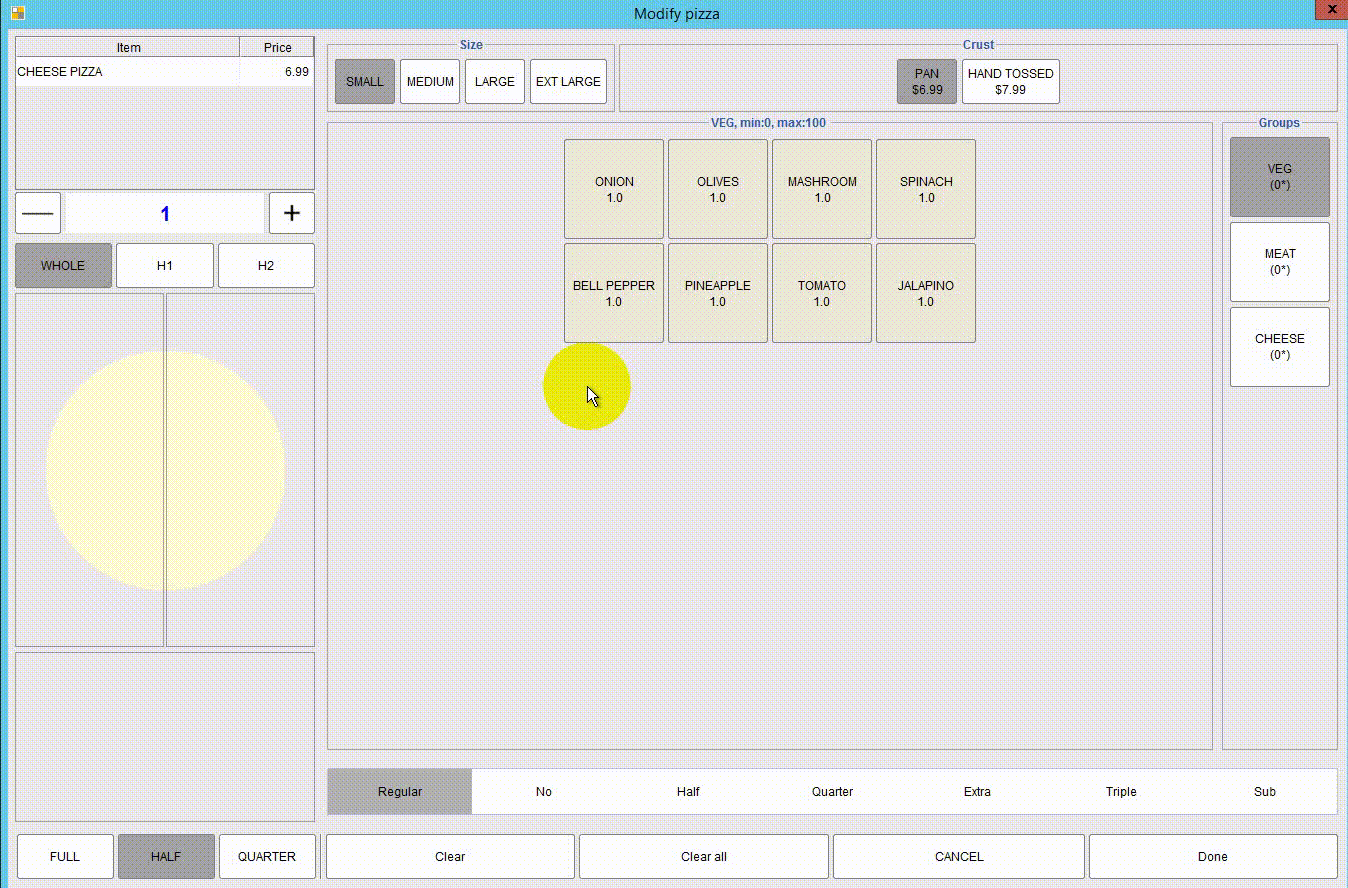 The fast and accurate Pizza ordering system
Supports Personal, Small, Large, Extra large or custom sizes of Pizza
Different Curst types.
Modifier window for full, half and quarter section.
Pizza price by Sizes, Crusts, and Multipliers.
Sections and full-size topping pricings
Modifier price by pizza sizes.
Templates and Vars No need to go for compiling receipts. Most of the changes you can do in Receipt configuration in less than a minute. Select variables from the sidebar, click on preview, save and done. Since templates stored in the database, all the terminals will be updated instantly. ORO support 80, 76 and 58mm paper sizes.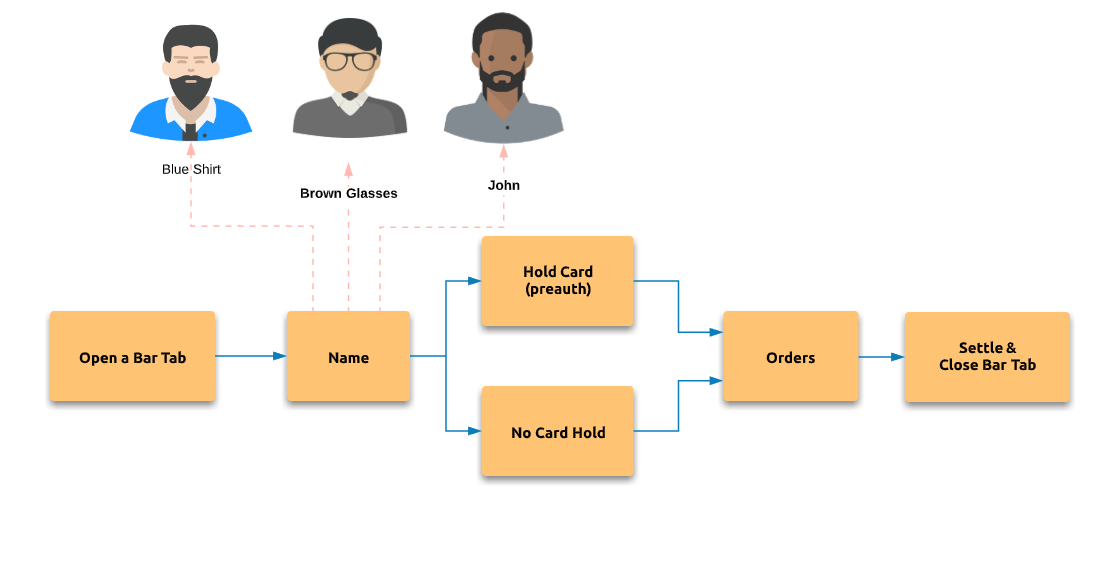 You can quickly and accurately record orders in a bar while focusing on customers - even track tabs by customer description. It provides both pre-auth or regular bar tabs. 
Fine dining restaurants can plan meal courses in ORO POS. It can start from three courses, appetizers, main dishes, and desserts. From there, it can decide on the number of dishes it will like available under each course. 
With ORO POS you can create combo meals where you can add selected items and number of items from groups.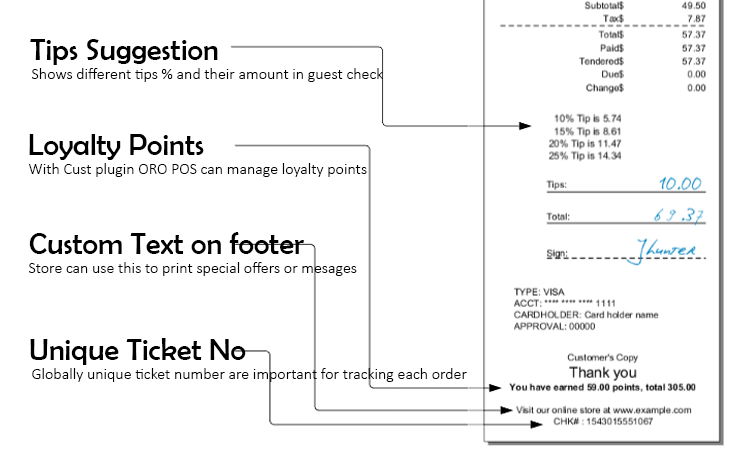 Loyalty points per visit and purchase to increase returning customers. ORO POS receipt designer lets you add loyalty points in the store receipt.
Configure the POS such a way it can show ticket preview in either right or left side of the window.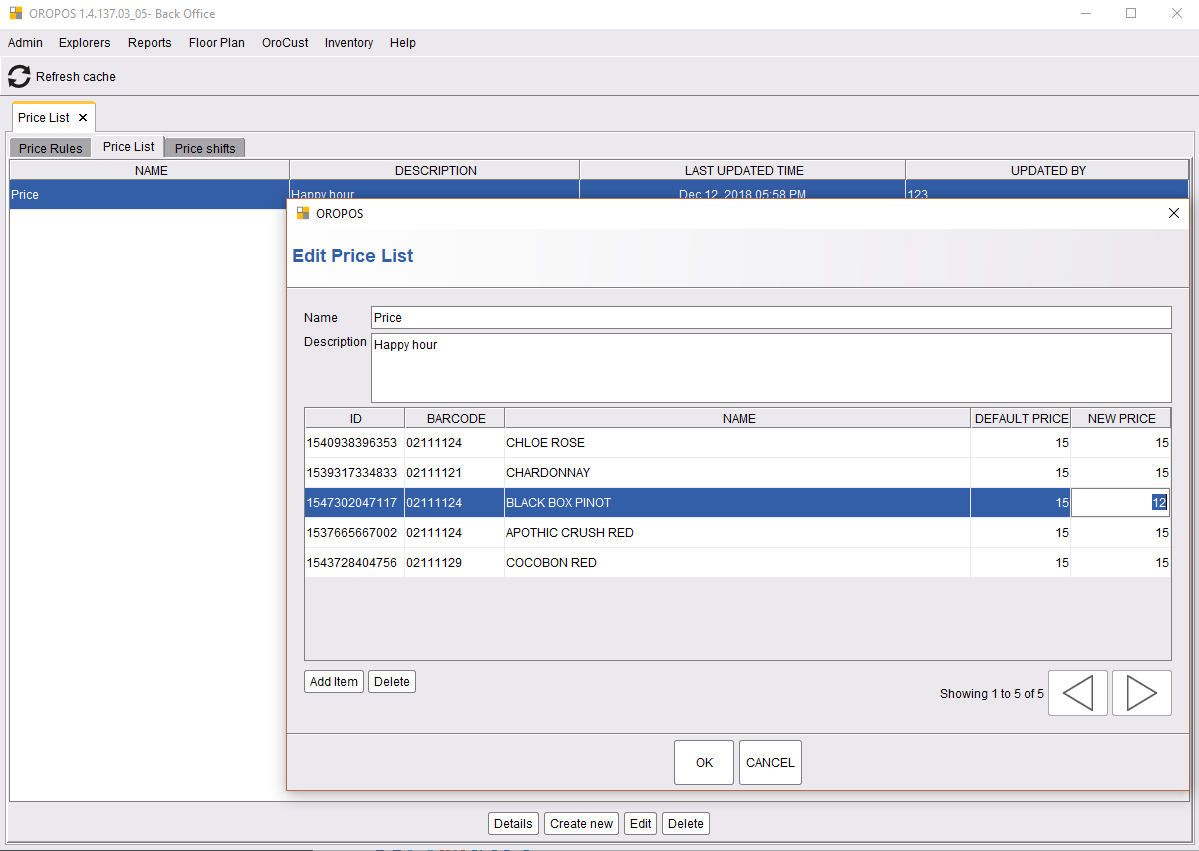 Create price shifts and let your POS system automatically change prices for selected times, and never worry about entering the price manually.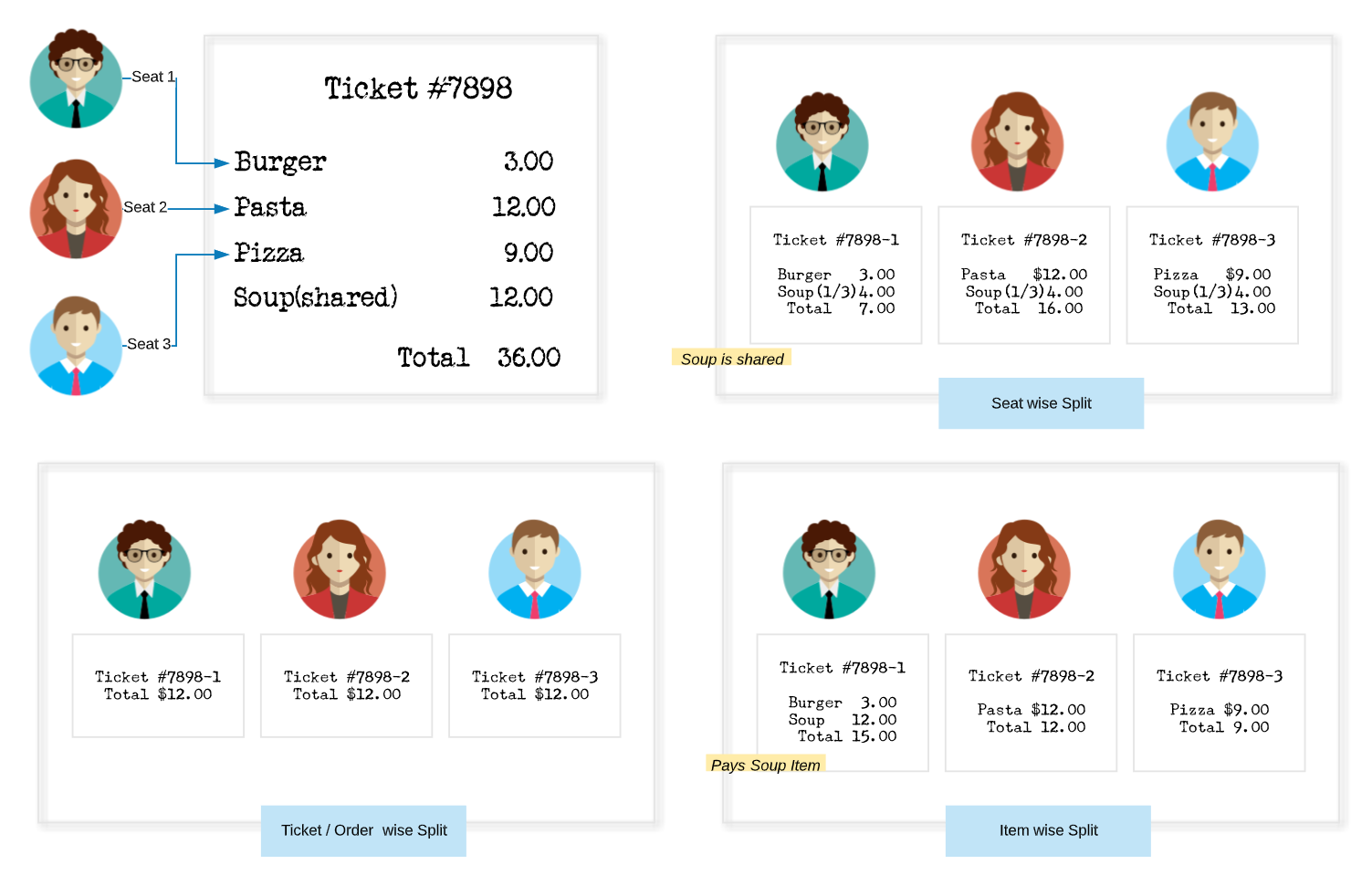 With ORO POS, servers can split checks by the number of guests, items ordered by individuals, or equally by number. You can also merge tickets and transfer items.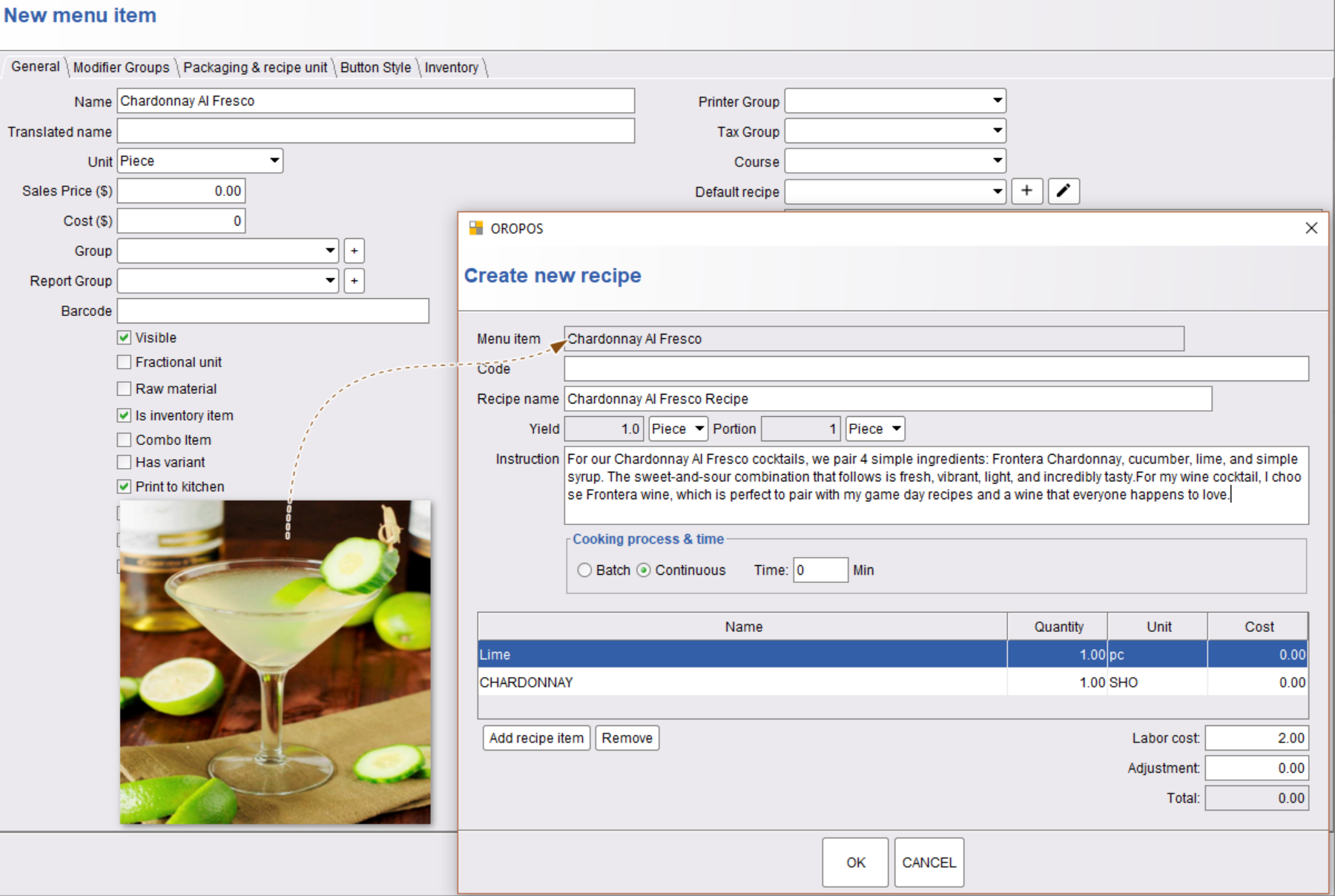 You can use Recipes to accurately track raw material consumption. They are very useful in Bars and can be used in restaurants too. Requires Inventory Plugin.
Inventory plugin provides multi-location inventory features 
Purchase Order
Full and partial receiving of orders.
Multi-location stock maintenance.
Recipe/BoM
Transfer items.
Convert units.
Stock count operating.
Avg and Last price costing.
Vendor database.
Empower your servers with full-featured POS in tablets. ORO POS support any Windows or Linux tablets. Boost sale and improve table service time.
With customized employee access levels you can limit what information your employee can see on the POS.  POS will maintain employee attendance with the clock in and clock time and also generate Payroll, tips, and TRAC reports.  For any errors, managers can adjust attendance and keep it running smoothly.  It will provide you real-time employee sales statistics, hourly productive reports, and keep track of void and wastages.
Gift card generator is integrated into the POS application. Stores can create them, sell, activate and redeem then. You can export bulk gift cards in excel spreadsheet and send to magnetic card manufacturer.
Take more orders in less time. ORO POS integrates a superfast order taking a system, saving every extra tapping in a touchscreen.