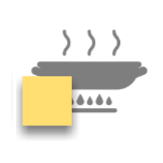 OROPOS KDS
paid annually
ORO POS already includes a KDS in its own terminal. Purchase it if you are running Kitchen Display unit in other terminals.
 

Real-time update

KDS will blink refresh button when the server sends a new order to the kitchen
When online it will connect to  IoT service for real-time notification.

 

Configurable display with color and style

Filter tickets by order type
Red and yellow colors to mark delayed orders
Configure the number of tickets per page.

 

Bump bar support

Separate KDS license is needed only if you run KDS in a separate terminal. To learn more about Kitchen Display System.