Menu Group vs Category
Categories are the top-level Entities in ORO POS menu system.  Groups can be considered as child entities of these categories.  Stores can rearrange items under a group using menu page designer. In a menu page managers can also include items from other groups.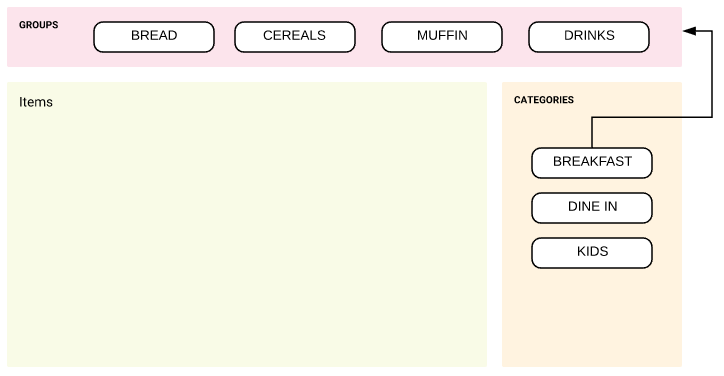 Fig.  Menu system
Special behavior
If there is only one group or category, the system would auto select that.
| | | |
| --- | --- | --- |
| Number of Categories | Number of Groups | Result |
| 1 | Many | Sidebar hides |
| Many | 1 | Topbar hides |
| 1 | 1 | Only shows Items |
Disclaimer: The information and media included on this website are not legal documents. Whilst we make every attempt to ensure the accuracy and reliability of the information contained in the documents stored, served and accessed on this site, this information should not be relied upon as a substitute for formal advice from our company. Features described in this document are subject to change without any notice.